The global demand for critical minerals is growing immensely.
Transition to clean energy technologies, critical mineral supply chain resilience and security and the impact of hydrocarbon fuel security are driving this huge increase in growth. The International Energy Agency (IEA) predicts that critical minerals demand will rise significantly over the next two decades.
By Example, demand for copper and rare earth elements will rise over 40%, 60-70% for nickel and cobalt, almost 90% for lithium and an overall doubling of demand for critical minerals in general by 2040.
In support of this demand growth and for purposes of National interest the Australian Government is offering a range of grants, financing, research and development opportunties for developing critical minerals projects and companies.
This article seeks to provide brief and simple answers to the following questions;

What are Critical Minerals?
There are varying definitions of what constitutes a critical mineral however, in broad context, a mineral is considered to be 'critical' if it is economically important and has a high risk and/or consequence of supply disruption.
'Critical Minerals' is a catch-all term that also includes mineral compounds, metals, and non-metals.
Australia's Most Critical Minerals
Different countries develop their own lists of critical minerals based on the relative importance of particular needs. These lists are reviewed and changed over time as necessary to suit global markets, technological advancements, advanced manufacturing, industrial development, and strategic national priorities.
As such, some minerals that may be considered as critical for a particular industry, or by a particular nation may not be classed as such by other nations. Some examples of this are iron ore, copper, aluminium, gold, and silver. Each of these are clearly minerals critical to modern manufacturing but their supply chains are not considered to be significantly 'at risk' in Australia and so they do not appear on Australia's critical minerals list.
Accordingly, Australia's list of critical minerals differs from the lists of other nations. Australia's list is also categorised in part on resource abundance and ease of access. Australia's current list of critical minerals is tabulated below. Resource potential and categorisation is based on abundance and accessibility.

Australia's current list of Critical Minerals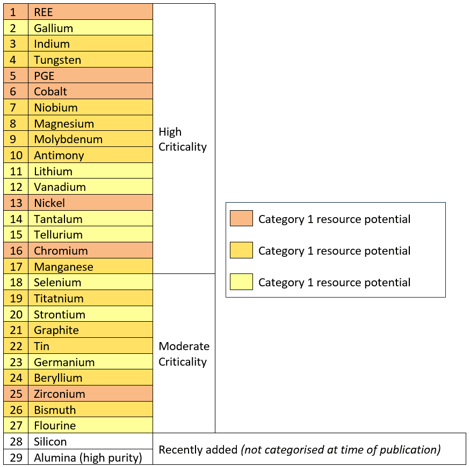 Australian Current Criticality Matrix (Geoscience Australia, 2022)
"Australia is blessed with extraordinary reserves of the critical minerals needed by sectors including defence, aerospace, automotive, energy, telecommunications and agritech."
Minister for Industry, Energy and Emissions Reduction, Angus Taylor MP 16-3-22
Why are Critical Minerals important?
Critical minerals are key to supporting advanced technology and modern human society.
The unique properties of these minerals are what make them so important in various technological applications.
Many critical minerals are required for the advanced manufacturing of high-technology components for products of industries of technological and industrial advancement such as renewable energy systems, electric vehicles, rechargeable batteries, consumer electronics, telecommunications, steel production, specialty alloys, and defence technologies.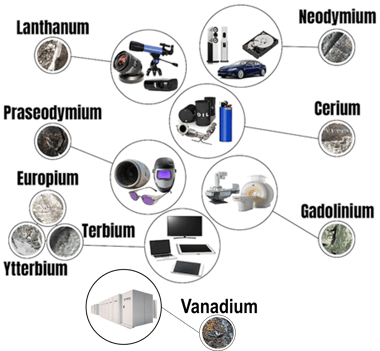 These technologies provide advanced consumer products such as solar panels, mobile phones, and computers, essential to modern life.
Rare Earth elements allow for the production of permanent magnets, orders of magnitude stronger than conventional magnets, useful in many applications including, wind turbines and the drives of electric vehicles.
Gallium's ability to turn electricity in to light is what allows light emitting diodes (LEDs), close to ubiquitous in modern technologies.
Vanadium, as an additive in steel alloying provides significant improvements in strength, toughness, and wear resistance, reducing the weight of a similar section of steel produced without Vanadium by around 30%, important for the aerospace industry, and is emerging as a critical battery storage commodity for its use in vanadium redox flow batteries, ideally suited to large, grid-scale storage solutions.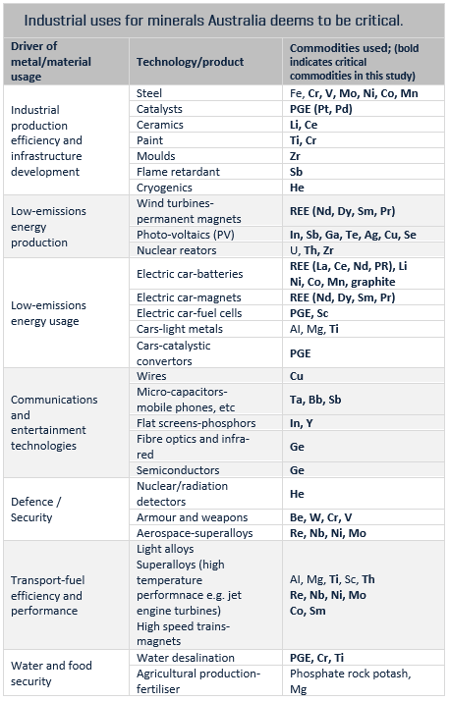 Common Uses of Minerals, Metals and Non-Metals in High Technology Applications (Geoscience Australia 2013)
The Australian Government's National Manufacturing Priorities include;
Resources Technology & Critical Minerals Processing

Food & Beverage

Medical Products

Recycling & Clean Energy

Defence

Space
While the processing and development of Australian critical minerals is one area of focus for the Government's manufacturing priorities, these minerals also underpin all five of the Government's other manufacturing priorities, those being Food & Beverage (desalination), Medical Products (non-reactive and antiseptic metals), Recycling and Clean Energy (solar panels and turbine blades), Defence (armour), and Space (aerospace super alloys).
Why is the Australian Federal Government focusing on Critical Minerals?
As alluded to by the definition of a critical mineral, one reason for Australia's focus on critical minerals relates to the potential for, and consequence of, global supply disruption, however other important reasons exist including;
Economic Development

Supply Chain Resilience

Sovereign Capability

National Security
These factors are not merely nationally focused, as the ability for Australia to export these critical minerals, or derived products, also provides economic benefit and increased security of supply to partner industrialised nations such as the US, EU, UK, Japan and the Republic of Korea (South Korea) and other global markets, and in turn de-risks the flow of these goods and materials.
By example, while estimates of production and processing volumes vary markedly between various reporting sources, it is recognised that China supplies the overwhelming majority of rare earths required by industrialised nations (55-60% by production and up to 90% by processing) and yet Australia has vast untapped or underdeveloped reserves and downstream processing facilities. This also applies to many other critical minerals within Australia.
"We'll dig them up right here. We'll refine them right here. We'll look to make the products that use them right here.
The world is becoming a more uncertain place and we want to secure Australia as a reliable partner for local and global businesses that need the critical minerals we have right here.
"As the global economy changes, there are exciting new growth opportunities emerging in areas such as rare earths and critical minerals that ultimately mean we can deliver a stronger economy for Australia and secure a stronger future."
Prime Minister Scott Morrison, 16-3-22
This circumstance of centralised supply has emerged through globalisation and is predominantly due to cheaper production costs both in terms of labour costs and also through decreased processing and operating costs via less onerous environmental constraints and environmental management practices.
With a surge in the desire for, and increasing importance of, greater accountability with respect to issues of environmental and social responsibility and governance (ESG), investors and consumers are increasingly seeking to source and invest in ethically mined and produced resources and products.

What funding and assistance is available to support Critical Mineral Projects in Australia?
The Australian Government's support for developing critical minerals projects is strong. This is evidenced by way of various supportive government, policies, incentives, and programmes for the critical minerals resources sector.
This is also borne out by the Government's support for the development of critical minerals projects through various grant and funding avenues such as the;
Collaborative Exploration Initiative

Northern Australia Infrastructure Facility

Australian Renewable Energy Agency

Clean Energy Finance Corporation

Critical Minerals Accelerator Initiative

Modern Manufacturing Initiative

Critical Minerals Facility – Export Finance Australia

Austrade
There are also specific opportunities available under state and territory critical minerals strategies such as the Qld Strategic Investment Scheme.
Conjunctively, there exist a range of complimentary supporting centres, facilities, and organisations to assist with research and development. These include the;
Critical Minerals Facilitation Office (CMFO)

Commonwealth Scientific and Industrial Research Organisation (CSIRO)

Australian Nuclear Science and Technology Organisation (ANSTO)

Geoscience Australia (GA)

Minerals Council of Australia (MCA)

Global Business and Talent Attraction Taskforce (GBTAT)

Cooperative Research Centre (CRC)
"By backing these important projects, we are also driving private sector investment to enhance Australia's strong international reputation as a reliable supplier of the resources the world needs."
Minister for Resources and Water, Keith Pitt 16-3-22
As with grants and funding, there exist a range of other organisations and opportunities available within and through different states and territories and their priorities.
Collaborative Exploration Initiative (CEI)
The CEI provides industry grants to:
encourage exploration, particularly in frontier/greenfield areas

support innovative exploration techniques, including machine learning and,

promote the discovery and development of 'new economy' minerals.
Northern Australia Infrastructure Facility (NAIF)
NAIF provides loans to help fund infrastructure in northern Australia, including critical minerals projects.
Australian Renewable Energy Agency (ARENA)
ARENA's Advancing Renewables Program supports a range of development, demonstration, and pre-commercial deployment projects. This includes opportunities to optimise the transition to renewable electricity, commercialise clean hydrogen and support the transition to low emissions metals.
Clean Energy Finance Corporation (CEFC)
CEFC provide funding for resources projects targeting critical minerals required in renewable energy technologies to enhance mining operations, draw on efficient equipment, low emissions transport and renewable energy.
Critical Minerals Accelerator Initiative (CMAI)
The accelerator initiative provides grants to strategically significant critical minerals projects at the early to mid-stage to fast-track them to market.
Modern Manufacturing Initiative (MMI)
The MMI is focussed on Mid-stage critical minerals projects. MMI funding helps firms pilot, demonstrate, or scale up the techniques and processes they need to achieve commercial close.
Critical Minerals Facility –Export Finance Australia (CMF)
The CMF is managed by Export Finance Australia. Projects that are aligned with the Australian Government's Critical Minerals Strategy, and are otherwise in Australia's national interest, may be able to access finance through this facility.
Austrade
Austrade supports the critical minerals sector by developing commercial partnerships that connect Australia with our trade partners and target markets.
The Australian Government's support of, and with, developing critical minerals projects and their related industries is leading to an exciting time in mining, manufacturing, processing, and development as we pivot into a new economy, new future and expanding industry.
Critical minerals are essential for sustaining, developing, and improving our standard of living and indeed our way of life.
They are 'critical' in progressing towards a carbon net zero future and their development within Australia is pivotal in de-risking the supply chain.
Siecap is currently acting as Owner Team for several developing critical minerals projects in Australia and overseas. Our highly experienced team of professionals would be pleased to answer any queries regarding critical minerals, project grants, funding, investment and supporting services and discuss methods and means of working towards or ensuring your projects are carbon neutral and environmentally and socially responsible to maximise project viability and success.