WHY SUPPLY CHAIN ASSURANCE?
The new legislation governing modern slavery, which was outlined in a previous article on the definition of Modern Slavery and compliance, coupled with the increased demand from consumers, is making supply chain transparency not only mandatory, but also a critical factor for success. This transparency requires detailed supply chain process mapping. This process mapping can be used as a great opportunity to capitalise on the vast benefits that can be achieved with increased supply chain transparency.
This transparency is achieved through Supply Chain Assurance (SCA).
WHAT IS SUPPLY CHAIN ASSURANCE?
SCA is having control, transparency and traceability throughout all stages of the supply chain, such that the supply chain is operating the way it is intended to. To have this assurance within a supply chain, companies must:
understand the process of their supply chain;

understand the primary functions of their supply chain;

understand the secondary and supporting functions of their supply chain; and

have processes, systems and governance protocols in place to manage risks within their supply chain
"SCA, the confidence that the aggregated set of processes and controls throughout the supply chain and product lifecycle will produce and deliver products, processes and information that are free of unintended elements and that function as designed and intended (Dell Inc., 2018)".
GSCF Model from Douglas M. Lambert, Martha C. Cooper and Janus D. Pagh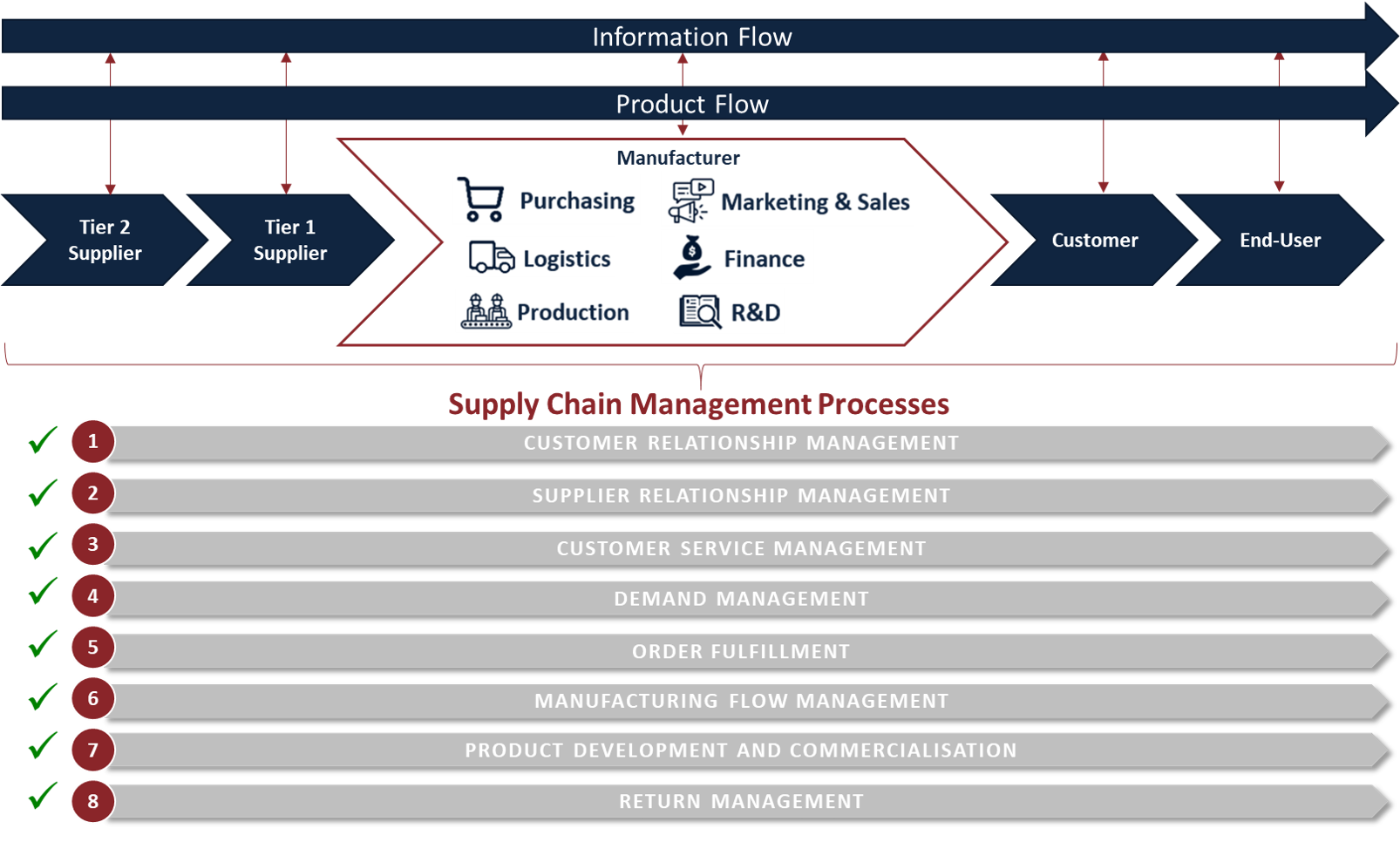 THE FIRST TWO PROCESSES ARE KEY:
Of the 8 key business processes outlined in Figure 2, customer relationship management and supplier relationship management provide a crucial link to external companies within the chain.
The other six processes, although still equally as important in creating visibility of the end-to-end supply chain, are specific to each company's internal processes (Senior Software, 2019).
An example of when complete transparency from end-to-end would be required is when a company is seeking to acquire Fairtrade Certification, which is being increasingly demanded by consumers.
All products being marked Fairtrade contain ingredients that have met strict Fairtrade Standards throughout their supply chain (Fairtrade Australia New Zealand, 2016). They have been independently certified along the supply chain.
The Fairtrade Standards are designed to support sustainable development of smaller producer organisations and agricultural workers in developing countries.
The standards incorporate a holistic blend of social, economic and environmental criteria (Fairtrade Australia New Zealand, 2016)
This Fairtrade Certification can only be attained if the company has good supply chain management.

Paddock to Plate is about giving customers the ability to make informed decisions on the food that they're eating and serving to their family and friends.
There are 4 stages of the "paddock to plate":
production
processing
transportation
retail
Paddock to plate is also about providing supply chain assurance surrounding how livestock and agriculture products have been handled along each stage of the supply chain, and therefore requires transparency and traceability.
Supply chain transparency can also be used to manage and mitigate safety risks along the supply chain. This is known as the Chain of Responsibility (CoR) and is about ensuring that primary and supporting contractors are performing within the company's policy standards.
Companies are not only responsible for the safety of employees directly impacted by their business, but also the safety of employees at each step of the way along the supply chain process. Thus, having a clear understanding of the risks involved at each stage, will allow the company to manage them. This can only be achieved through good supply chain management
WHAT YOU NEED TO DO
1. Understand your obligations and stakeholder expectations
Is your entity earning over $100m? Or, if operating in NSW, is your entity earning over $50m?
What external stakeholder demands are impacting your business? (e.g. environmental concerns)

2. Understand your supply chain
Who are your key suppliers (1st, 2nd & 3rd tier)?
Have you identified areas of high-risk? Are you exposed to any high-risk countries?
Have you identified all high-risk categories?
Have you identified all high-risk sectors?
Do you have supply chain assurance? Is your supply chain operating the way it was designed to?

3. Understand your organisations policies and processes
Do you have policies in place to manage risk within your supply chain? Do you have clear policies in place for suppliers?
Do you have clear processes in place to manage these policies?
What standards and governance processes do you have in place to audit and ensure suppliers are upholding your policies?

4. Develop and communicate your journey
Are you clearly communicating your Anti-Modern Slavery practices to all external stakeholders?
Are you conducting regular risk assessments of all direct suppliers?
Do you have a plan to update your policies and processes - where are they failing?
Supply Chain Assurance needs to be a continuous process, continuously reviewed and updated where necessary.
ORGANISATIONS THAT ARE PREFORMING WELL WITH MODERN SLAVERY

SOUTH 32
South32 is a global mining and metals company whose purpose is to make a difference by developing natural resources, improving people's lives now and for generations to come. Being a mining company with a large and complex global supply chain, South32 recognizes that modern slavery is a real risk in their supply chain. Their goal is to go beyond audits and be smarter about identifying supply chain risks by partnering with their high-risk suppliers to develop a collaborative and authentic approach to modern slavery in supply chains.
South 32 responds to the Section 54 requirements of the United Kingdom (UK) Modern Slavery Act 2015 (Act), were they describe the steps taken by South 32 to in FY17 to address potential modern slavery risks in their supply chain.

South 32 has embarked on a journey of addressing modern slavery risks by emphasizing collaboration and relationships, in addition to due diligence of their supply chain.

South 32 has companywide policies in place to manage the risk of human rights abuses, including modern slavery and human trafficking, within their own operations and in those of their suppliers and business partners.
South32. (2019). Our Stance Against Modern Slavery. Retrieved from South32:
https://www.south32.net/who-we-are/sustainability-approach/modern-slavery
1. Supplier onboarding

2. Supplier high risk mapping and due diligence

3. Training and capacity building

4. Reporting concerns

Pre-qualification of suppliers

Contracts

Internal policies and business conduct requirements

Supplier high risk mapping

Active due diligence, including audits

Workshops with subject matter experts

Building relationships and supply chain transparency with suppliers

Training and capacity building

Complaints and grievances mechanisms at every operation

An anonymous hotline in every location we operate (Ethicspoint)

CALTEX
Caltex is a business that is proudly Australian, and their commitment has never been more focused on playing a leading part in their country's future. As a proud Australian company, Caltex sets high expectations for itself and those around it.
Caltex has a 'Supplier Code of Conduct' which outlines the minimum requirements for suppliers seeking to do business with Caltex. The principles apply to all third-party suppliers and contractors engaged to provide any goods and services required throughout the supply chain, including hydrocarbons and merchandise for resale procured by Caltex or any of its wholly or controlled sub-entities, irrespective of the geographical location of their operations.
The three focus areas for Caltex are their supply chain, their employees and contractors and their community.
Caltex. (2019). Human Rights Policy. Caltex (PDF)
| | | |
| --- | --- | --- |
| Supply Chain | Employees and Contractors | Community |
| Considering human rights and setting minimum expectations as part of sourcing and purchasing decisions. | Providing a safe, secure and inclusive work environment free from discrimination, bullying and harassment, together with fair pay and labour conditions. | Contributing to the social and economic development of the community in which we operate; working with communities to understand their priorities and concerns |

MARS
MARS has been proudly making treats and nutritious meals for over 100 years. They are a privately held, family-owned company seeking to promote and advance respect for human rights across their value chain. Their current business structure sees them having more than 115,000 Associates working across more than 450 sites, including manufacturing facilities, offices and other workplaces in 80 different countries.
MARS currently responds to the UK Modern Slavery Act of 2015, and this response would also comply with the Australian Modern Slavery Act. In 2015, they identified forced labour and child labour as the human rights issues that pose the most severe risk to the people in their supply chains. Their human rights framework is shown below.
MARS. (2018). Modern Slavery Statement 2018. MARS.
Framework in Action
| | | | |
| --- | --- | --- | --- |
| Commit | Assess | Respond | Engage |
| Forming a cross-functional team with clear accountabilities and governance processes. Identifying or creating relevant polices, standards and practices. Allocating appropriate resources to support successful activation of the agreed plan. | Conducting human rights due diligence in order to understand relevant human rights impacts where possible, input from impacted people and local communities. Consulting with human rights experts to understand structural dynamics, root causes and relevant context. | Seeking to prevent, address and remediate human rights impacts, either directly or in close collaboration with industry, government and civil society. Such actions may include monitoring and verification systems, awareness raising and training, grievance mechanisms, remediation of individual cases and addressing the enabling environment and root causes. | Engaging externally to learn from and collaborate with others and to share our own progress and challenges transparently. Seeking to mobilize or join key industry coalitions and to drive collective action across sectors to meet shared goals. |

BEIERSDORF
Beiersdorf is an international skin care company with globally leading brands such as Nivea. At Beiersdorf they want to play an active role in making positive contributions to society. Consequently, the company has a set of policies in place in relation to slavery and human trafficking. These include:
Policies for employees

Provides a Code of Conduct for employees which clearly states that Beiersdorf will not support or tolerate slave labour or human trafficking

Policies for suppliers

Code of Conduct for Suppliers

Prohibits the use of forced labour and inappropriate disciplinary measures, and prohibits child labour
Beiersdorf plans to review annually the steps it has taken to address the risks of slavery and human trafficking in its business and in its supply chain, including the effectiveness of internal processes for reporting and escalation of issues.
The company's Corporate Sustainability team annually conducts a risk assessment of all direct suppliers (approximately 24,000). The process consists of appraising country-related risks as well as the individual supplier's significance to Beiersdorf in terms of procurement volume and brand proximity.
Beiersdorf. (2018). Modern Slavery and Human Trafficking Statement 2018. Retrieved from Beiersdorf: https://www.beiersdorf.co.uk/sustainability/local/gb/Our-Sustainability-Management/Modern-slavery
SUMMARY
The new legislation governing modern slavery, coupled with the increased demand from consumers, is making supply chain transparency not only mandatory, but also a critical factor for success.
Supply chain transparency is achieved through Supply Chain Assurance (SCA) and Chain of Responsibility (CoR) which can also be used to manage and mitigate safety risks along the supply chain.